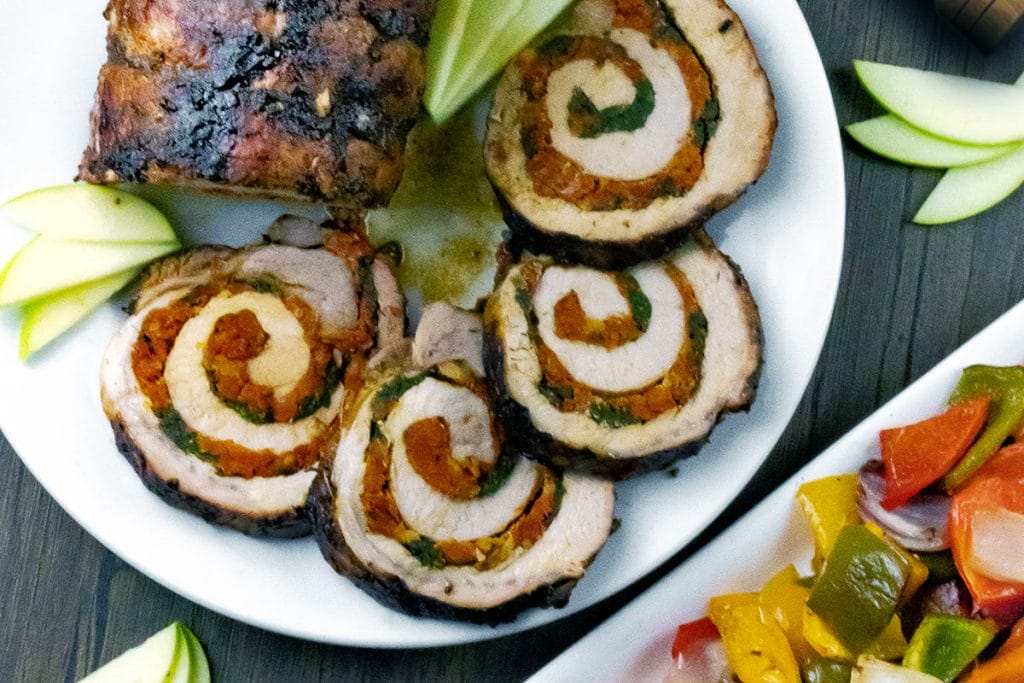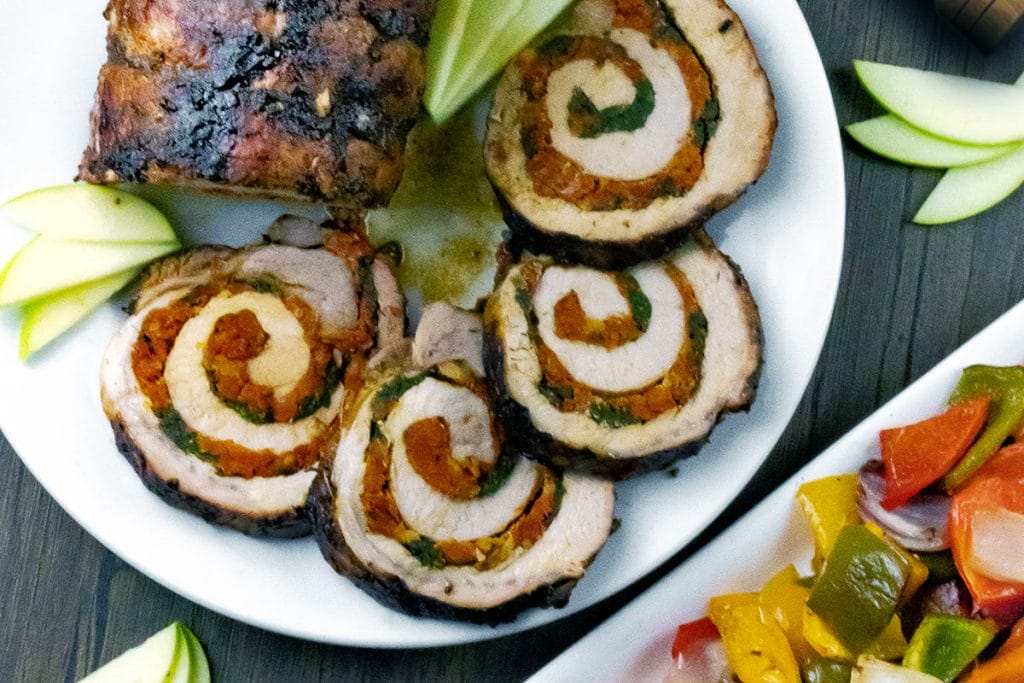 For the Roulade

1 (3lb) pork loin​
2/3 cup Jerk seasoning​
20 oz spinach, wilted​
2 cups sun-dried tomatoes, soaked in hot water and sliced thinly​
3 tablespoons oregano leaves, dried​

For The Roasted Vegetables

2 large red bell peppers, large dice​
2 large green bell peppers, large dice​
2 large yellow bell peppers, large dice​
2 medium red onions, cut into chunks​
4 cups baby potatoes, cut in half​
4 cups sweet potatoes, large dice​
salt and pepper, to taste​
For the Roulade

1 (3lb) pork loin​
2/3 cup Jerk seasoning​
20 oz spinach, wilted​
2 cups sun-dried tomatoes, soaked in hot water and sliced thinly​
3 tablespoons oregano leaves, dried​

For The Roasted Vegetables

2 large red bell peppers, large dice​
2 large green bell peppers, large dice​
2 large yellow bell peppers, large dice​
2 medium red onions, cut into chunks​
4 cups baby potatoes, cut in half​
4 cups sweet potatoes, large dice​
salt and pepper, to taste​
Preheat oven to 450 degrees F. Butterfly the pork tenderloin by making several lengthwise cuts, three quarters of the way through each. Pound the cut pork to an even ¼-inch thickness throughout, working from the thickest part outward toward the outer edges.

Rub the jerk seasoning on both sides of the pork. Sprinkle evenly with oregano, sundried tomatoes and spinach.

Roll up and use twine to tie together every inch or so. Place cast iron skillet on the stove on medium high heat for 5 minutes with a tablespoon of Coconut oil. Place pork sealed side down in the skillet.

Turn as the sides brown to seal in the juices. Once the whole roulade is browned, place the skillet in the oven for 30 minutes or until an inserted meat thermometer reads 145 degrees F. Allow the pork to rest for 3 minutes before serving.

For The Vegetables

Place all vegetables in a large baking tray lined with parchment paper and a light drizzle of oil.

Drizzle a little oil over the vegetables and some salt and pepper to taste.​

Place tray in the oven and allow the vegetables to roast for 20 minutes or until cooked and slightly blackened.

Serve and enjoy with the sliced roulade.​