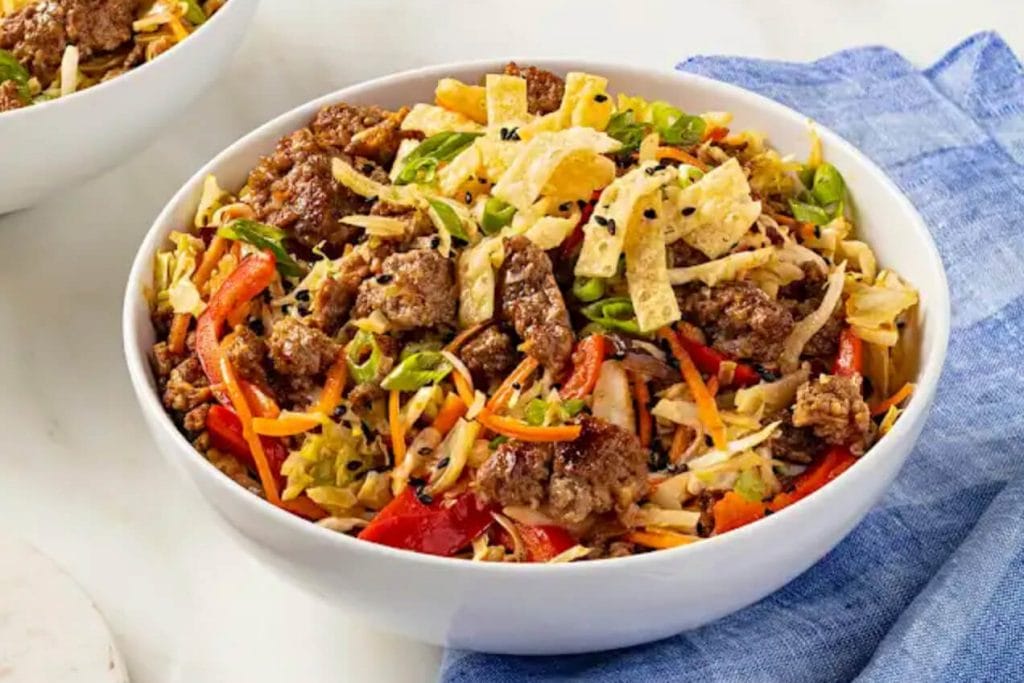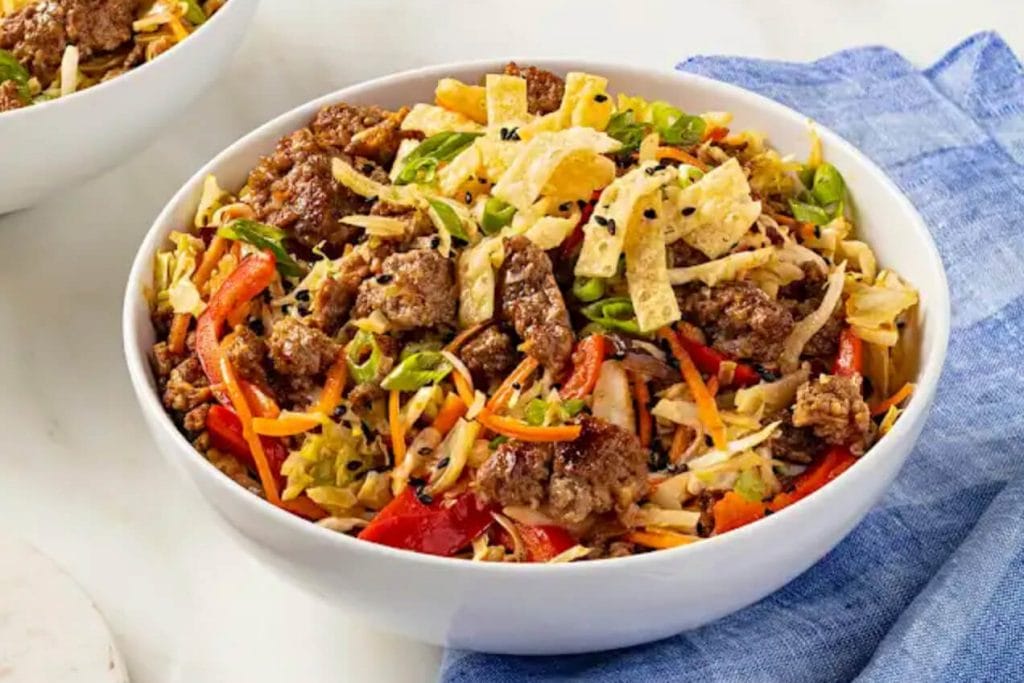 1 tbsp. sesame oil
1 small red onion, diced
1 tbsp. minced garlic
1 tbsp. ginger, finely minced
1 lb. ground pork
2 tsp. sriracha sauce
1 bag coleslaw mix (14 oz)
2 red bell peppers, sliced thinly
1 bag matchstick carrots (10 oz)
3 tbsp. low-sodium soy sauce
1 tbsp. rice wine vinegar
salt, to taste
black pepper, to taste
1 tbsp. sesame oil
1 small red onion, diced
1 tbsp. minced garlic
1 tbsp. ginger, finely minced
1 lb. ground pork
2 tsp. sriracha sauce
1 bag coleslaw mix (14 oz)
2 red bell peppers, sliced thinly
1 bag matchstick carrots (10 oz)
3 tbsp. low-sodium soy sauce
1 tbsp. rice wine vinegar
salt, to taste
black pepper, to taste
Heat sesame oil in a large skillet over medium heat. Add red onion, cook 2-3 minutes. Add garlic and ginger. Cook until fragrant, about 1 minute. Add ground pork and Sriracha. Cook and crumble until pork is cooked through to 160 degrees F, about 7-10 minutes.

Add coleslaw mix, red bell pepper, carrots, soy sauce, sesame oil, rice wine vinegar, black pepper, and salt, to taste, and stir until well combined. Cook, stirring occasionally, until cabbage is tender, about 5 minutes.

Spoon pork-cabbage mixture in to a serving bowl. Drizzle with sauce of choice and garnish, if desired.

Optional for garnish: sliced green onions, sesame seeds, wonton strips.

Optional sauces: hoisin or duck sauce, sriracha, hot sauce, or sweet chili garlic sauce. For a creamy sauce, mix together Greek yogurt, sriracha, lime juice and salt to taste.